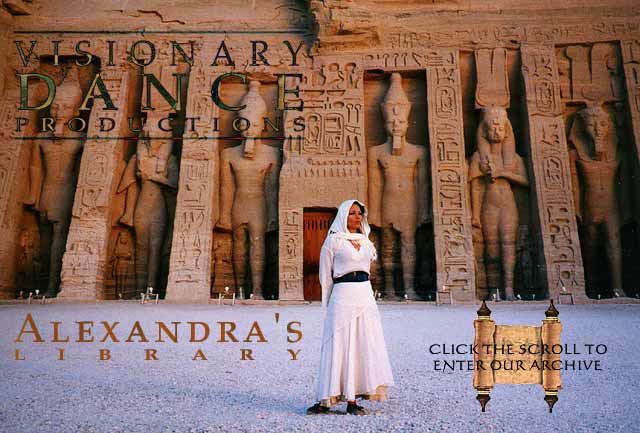 Photos: Galleries of still images of Belly Dance projects, performance and more.
---
Video: A variety video clips featuring selections from our productions, Delilah's adventures abroad, and a sampling of the projects through which we celebrate the art of belly dance.
---
Visionary Archives Documentation of Belly Dance Events: A documentation of fascinating dance experiences.
---
Bellydance and Pregnancy: Articles relating belly dancing as preparation for childbirth and increasing women's self esteem.
---
Costumes: Advice on how to make belly dancing costumes.
---
Spotlight on Belly Dancers and Issues: All ages and walks of life share their experiences with the art of belly dancing.
---
Fun, Fantasy and Fiction: Included in Alexandra's Belly Dance Library are links to specific pages where you'll find information for aspiring bellydance students, teachers and professionals.
---
Dance Notes and Articles: Articles on choreography, Pharonic dance, producing and using instructional DVDs and videos, lessons and theory, photo credits…
---
Travel and Adventure: Belly dance in Egypt, Dervishes in Turkey, Mendocino Music and Dance Camp, Costa Rican rainforest, also see documentation of events above.
---
Self Empowerment: Inspirational tools for personal growth.
---
Video and Audio Reviews: Articles about Visionary Belly Dancing videos, DVDs and music productions.