About Us
Visionary Belly Dance is an internet business where we sell products that teach and enhance the art of belly dance. Our home base is located in Fremont, a quaint little artist neighborhood in Seattle, Washington (officially sanctioned by the city of Seattle as the Center of the Universe).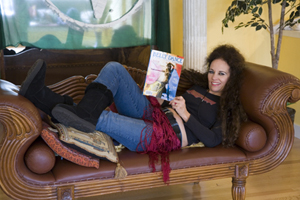 The business has been owned and operated since 1985 by Delilah and family. We are widely known as integral artists and business operators in Seattle Washington, as well as the greater world of belly dance. We are always busy on new projects that strive to bring quality education to those who want to learn and enjoy belly dance through DVD instruction, musical recordings, live performance, classes, community work, workshop engagements, and study retreat programs. It is an important value for Visionary Belly Dance to sponsor other artists in the field and utilize live music when ever possible.
We specialize in the teaching philosophy and the artistry of Delilah by way of offering quality instructional belly dance program media. We also carry many essential supplies dancers will need to begin learning and teaching belly dance to others, such as coin hip scarves, weight belts, veils, books, sports bras, finger cymbals, music CDs, instructional, as well as concert performance videos/DVDs. You will also find some costumes and clothing offered from time to time.
Visionary Belly Dance also hosts a very informative, entertaining and beautiful web site dedicated to the art of belly dance and the personal growth and transformation it offers women. In addition to all the pages made available to the public, we also host an exclusive password-accessible club section that is related to particular instructional courses developed by Delilah.
Our Seattle Studio offers local classes weekly along with national and international workshops, public performances, lectures, and belly dance retreats. All events are highlighted on our schedule which is posted on our Calendar Page in the Seattle Studio section of this website.
Current Staff:
Delilah, Erik Brown, Laura Rose, Dahlia Moon, Bella Jovan, and Christine Hamby.