NOVEMBER calendar page
https://visionarydance.com/seattle-studio/class-schedule/
Interview by Delilah with Laurel Victoria Gray: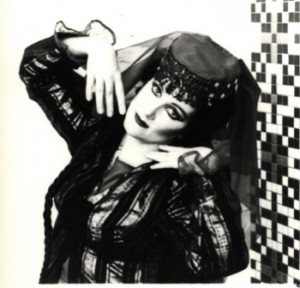 Ladies and Gentleman
It is with great pleasure that on November, 25, 26, 27 Visionary Dance Productions is hosting one of America's expert ethnic choreographers and dance historians here in Seattle to teach four exciting workshops. Her awards are truly outstanding and unprecedented in our dance community and this is an opportunity that should not be missed by any ethnic dance enthusiast.
You can see many of her works at,
http://www.youtube.com/user/SilkRoadDanceCompany
About Laurel,
Laurel Victoria Gray is known as "the pioneer of Uzbek dance in America," her efforts to preserve and present traditional Central Asian and Persian dance make her a true cultural diplomat.
2011, she was given the prestigious Arash Award by the Toronto's Tirgan Iranian Festival for her contributions to Iranian culture.
2009, she was selected by Fulbright Association to deliver the Selma Jeanne Cohen International Dance Scholar Lecture at their annual conference
2007, she was awarded an honorary doctorate by Uzbekistan's Ministry of Culture for her work in promoting and preserving Central Asian Dance not only in America but in world wide travels; Europe, Central Asia,Australia, and Canada.
2006 she was the recipient of the Metro DC dance award in excellence in Costuming Design.
2005 she was the recipient for the Distinguished Service Award by the Embassy of Uzbekistan.
2003 she own the Kennedy Center Local Dance Commissioning Project Award.
2003  she won the International Academy of Middle East Dance (IAMED) award for best Choreographer ,
1999 she won the International Academy of Middle East Dance (IAMED) award for Best Ethnic Dancer
Dr. Gray's articles have appeared in publications including the Oxford University Press International Encyclopedia of Dance, the World Encyclopedia of Contemporary Theater, the Encyclopedia of Women in Islamic Cultures, the Encyclopedia of Modern Asia and Dance magazine as well as journals in Germany and Australia. She has written countless articles for regional and international Middle Eastern Dance magazines across the globe for many years including  Habibi, Arabesque, Jareeda,  and more.
She has traveled to Uzbekistan a dozen times, living there for two years and appearing on television dance programs many times. She was a member of the jury for the 1997 International Music Festival 'Sharq Taronalari' (Melodies of the East) which was held in Samarkand and for the 1993 Uzbekistan Puppet Theater Festival.
Laurel has been a guest instructor at the major Middle Eastern dance camps and retreats held annually in the United States, including the Mendocino Middle Eastern Music and Dance Camp, the Oasis Dance Camp, Delilah's Visionary Retreat in Maui, Morocco's week-long seminar in NYC, and the Central Asian Dance Camp. In 1999, she studied Egyptian folklore in Cairo. Laurel is also the founder and president of the Uzbek Dance and Culture Society, and has photographs on display in the Museum of Peace and Solidarity in Samarkand, Uzbekistan.
Dr. Gray has taught Russian and Soviet History at North Seattle Community College. She was an education outreach instructor for New York's City Center Theater in 1990, introducing thousands of Middle School students to Georgian dance.
Currently she is the artistic director of Silk Road Dance Company. Dr. Gray teaches as Adjunct Faculty taught atGeorge Washington University and George Mason University. For several years she gave instruction in traditional Persian dance at the Iranian Community School in Vienna, Virginia; she currently teaches at the Joy of Motion Dance Center in Washington, DC as well as at Joe's Movement Emporium in Mount Rainier, Maryland.
Interview:
Delilah:
Your credentials are not only impressive but multifaceted. You couldn't have accomplished so much without an absolute love and dedication for dance and cultural heritage. It shows you have worked hard and diligently and I might add from a very young age. You first traveled to the Soviet Union and Uzbekistan as a teenager when it was unheard of for Americans to go there correct?
Laurel: It was rare and difficult, but possible, especially for young student groups. We had the opportunity to travel throughout the USSR from Leningrad to Siberia, to Tashkent to Tbilisi and experience the immense cultural diversity of the country.
Delilah:
For two years, from 1992 to the end of 1993,  you lived in Uzbekistan during the turbulent time of its new independence. Your goal there was in effort to preserve the dance and traditions that were fast being pushed aside by modernization and the fall of the Soviet system of artistic support. What is it like today?
Laurel: Happily, the Uzbek government has decided to keep dance as an important expression of national identity. Celebrations of Independence Day and Navruz, the New Year celebration, all feature intricate dance performances.
Delilah:
Even though I don't live in Washington DC I have enjoyed watching Silk Road Dance Company online, especially the performances featured video archive of the Kennedy Center of website. Impressive. The costumes are outstanding and are an integral aspect of the overall beauty of the presentations. Since you choreograph the dances, are they dances you learned from artists over there or are they your own adaptations?
Laurel: Silk Road Dance Company performs traditional and contemporary choreographies. We have a Legacy Repertoire of famous, traditional dances that have been gifted to us by World Dance specialists from different countries. And we also present my own compositions that are based on traditional movements. Some of these pieces are traditional in flavor while others are more contemporary and interpretive.
Delilah:
I first became associated with your work in Seattle Washington when you were active in the Seattle Sister City Committee working with international artists exchanges. This was before and after the Good Will games in 1989. I certainly knew of your performances as a member of the Seattle based Tanavar Dance Ensemble as well. Would you care to walk down memory road a bit?
Laurel: To my knowledge, Tanavar Dance Ensemble was the first Uzbek dance group in the United States. Several of the choreographies and costumes created for Tanavar became the basis for Silk Road Dance Company.
Delilah:
You traveled extensively in Europe creating theatrical choreography for several dance troupes for a several years. This demanded you be on the road all the time. What was that like?
Laurel: Yes, I toured Europe ten times, teaching Persian, Central Asian, Russian Roma "Gypsy," ancient Egyptian and Arabic dance. The dance groups for which I created choreographies were very motivated and worked to master the pieces I taught.
The rough part was that this was before DVDs, so I had heavy suitcases  filled with my dance videos that I had to drag around on the trains. Ah, the glamorous life!
Delilah:
You moved from the Seattle area to Washington DC, where you could be more active and plugged into the opportunities of international cultural art affairs. When did you create Silk Road Dance Company?
Laurel: I founded SRDC in 1995, but never guessed the kind of success we would have. We have traveled to 14 states and 3 foreign countries! SRDC has appeared at some of the most prestigious festivals and venues in DC, including the Kennedy Center and the Library of Congress. The ensemble has been featured at events for the Embassies of Egypt, Tajikistan, Uzbekistan, Kazakhstan, Turkey and Russia; we are often engaged by cultural organizations in the Turkish, Iranian, Afghan, Arab and Central Asian communities.
Delilah:
About Silk Road Dance Company? What dances do you represent?
Laurel:
Silk Road Dance Company is an ethnically diverse professional dance ensemble specializing in women's dance of Silk Road cultures, Central Asia, the Caucasus, the Middle East and North Africa. This includes Afghani, Azerbaijani, Ancient Egyptian, Bollywood,  Crimean Tatar, Egyptian folklore, Arab Gulf States, Indian, Iranian, Kazakh, Kurdish, Mongolian, Moroccan, Persian, Russian Roma (Gypsy), Tajik, Turkmen, Uzbek, Uyghur, Urumchi and more!
We also performed at Warner Bros studio in California at a star-studded event promoting their television programming. Unforgettable!
Delilah:
When you come to Seattle you will be teaching four different workshops. Can you shed a little more light on the workshops, and who should attend?
Laurel: All of the workshops are suitable for dancers of all levels. Folks interested in pure technique will enjoy the "Silk Road Sampler" but there is also technique in the choreography classes. All of the pieces have a distinct movement vocabulary that can be adapted to other styles.
On Friday,  Nov 25, I will present a "Silk Road Sampler" from 2-4 pm to give dancers a taste of some of the beautiful movements and technique from different Silk Road cultures. These elements can be used in other forms, from elegant Egyptian styling to tribal bellydance.
"Vintage California Tribal, a legacy of the Bal Anat style that influenced West Coast dancers in the 1970s, will be presented on Saturday,  Nov 26, from 11-1 pm. The workshop includes an complete choreography to a Middle Eastern flavored version of "Paint it Black." Dancers can explore the roots of American tribal forms by learning this vocabulary in a choreography. I will also share some of the earlier tribal costume styles that are a refreshing break from the usual tribal "uniform." This workshop is inspired by my years in a California Tribal influenced dance troupe. I love being able to share this part of our dance heritage.
We go to Bollywood  later on Saturday, from  2-4 pm, when I will teach a playful choreography to "Ringa, Ringa",  a charming piece of music from the film Slumdog Millionnaire.  My Bollywood style draws from Indian folkdance and classical dance. It is not just bellydance to Bollywood music, so it has a real Indian flair.
Bollywood is also the the theme of my Sunday November 27th workshop from noon to 2 pm. The choreography is set to a great Punjabi song, Gur Nala ishq Mitha , and has a energetic Bhangra feel. This piece is a real crowd pleaser and will be an excellent addition to troupe repertoires.
On Friday Night November  25
6:30-9:00
Open Invitation:
Pot Luck and Talk by Dr. Laurel Victoria Gray
Subject ;
"The Challenges of Saving these Dances Authentically"
Bring a dish to share and enjoy the evening with this very knowledgable and funny speaker. We All dancer and interested folks are invited to attend
Location;
VDP STudio
4128 Fremont Ave North.
Sea. Wa 98103
206 632-2353