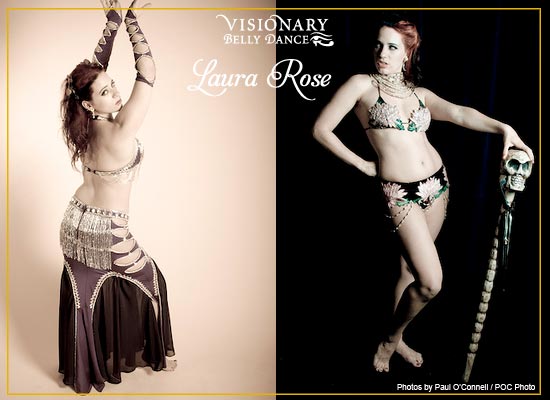 Check out her website (in progress): www.thelaurarose.com
Laura Rose is known for strong and empassioned stage persona and dramatic presentations of the dance, in several well known genres of belly dance. As an instructor, her friendly and humrous demeanor, blended with a very strong foundation of the dance, gives students a warm, authentic enviroment to dance, study and play.
Laura Rose started her professional belly dance career at age 22 in 2003 as a member of Delilah and Sirocco's East Coast Caravan Tour – 40 Days and 40 Nights. The tour visited 15 cities, and included a show in Washington DC which was favorably written up by the Washington Post. This was followed by many performances in Seattle, including with the Brothers of the Baladi at the fabulous Triple Door, the Pyramid Lounge with Raks Serpentine, a lead in the Fremont Solstice Parade Ensemble, and with House of Tarab at the historic Columbia City Theater and various ethnic restaurants around Seattle. She has performed in Tokyo, Japan and Egypt. Her most recent foreign engagement was a 5 stop tour in South Korea with Delilah and Company.
While it is important to Laura Rose to respect belly dance and the many cultures that embrace it, she also likes to broaden her horizons.  She was one of the trailblazing dancers of the new belly dance genre: Gothic Belly Dance or Raqs Gothique, bringing down the house to Mr. Bungle and the Genitorturers at Rakkasah East 2003. She specializes in teaching dramatic, theater driven bellydance and working with alternative and fusion music and costume. She was a featured instructor and performer at Gothla: The Conjuring, the first Gothic bellydance festival in L.A. February 2008. She performs "zombie belly dance" on the 2008 release, "Gothic BellyDance Revelations"
Laura Rose loves theater and trying on new and interesting characters. She began performing in Seattle cabarets in 2003 with Burning Hearts Burlesque at The Fenix Underground and later became a founding member of Sinner Saint Burlesque. She has been a featured performer in Seattle's Moisture Festival for years at ACT Theater and can frequently be seen performing frequently at The Pink Door, The Noc Noc and El Gaucho's Pampas Room.
You can read an article she wrote on the subject of fusion belly dance performance and cabaret for The Gilded Serpent here >>
As a belly dance instructor Laura Rose is available for private and group instruction. She believes all women should belly dance regardless of interest or plans to perform. Her approach for beginning belly dance addresses the variety of way different muscle contractions can achieve similar visual results. She maintains that using this dance as a gateway to more joyful experience of one's body is theraputic and awesome! Laura Rose is also a "Power Belly" instructor. Her version on his exciting and sweaty belly dance conditioning class usually invovles a wide range of non-Middle Eastern music. For intermediate and advnaced sturdents, Laura Rose encourages the use of drama, characters and a practice of strong stage presence in their presentation of the dance.
Laura Rose is also the head video editor and DVD post-production specialist at Visionary Dance Productions. She has been the lead editor on all Visionary Dance Production's award winning DVDs, as well as, produced and authored several titles. She graduated from The Evergreen State College with a BA in film and video production in 2003. She is sometimes available for hire on other video, editing and art projects. Contact her at lauraroseflynn@yahoo.com
Laura Rose is very proud of her work directing and producing the documentary, "Embracing Aphrodite" about using belly dance and the Aphrodite archetype as a tool for personal growth. This program is included as a 60 minute extra on the DVD program, Delilah and Sirocco, Live and Wild.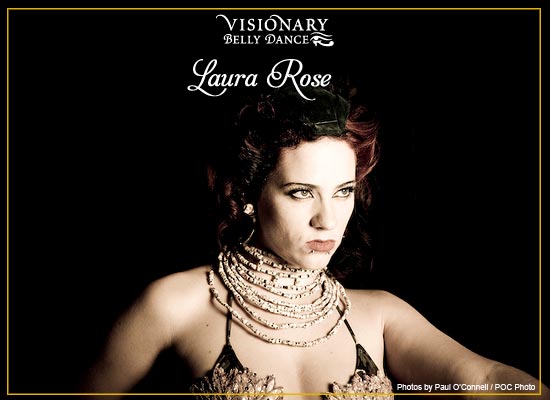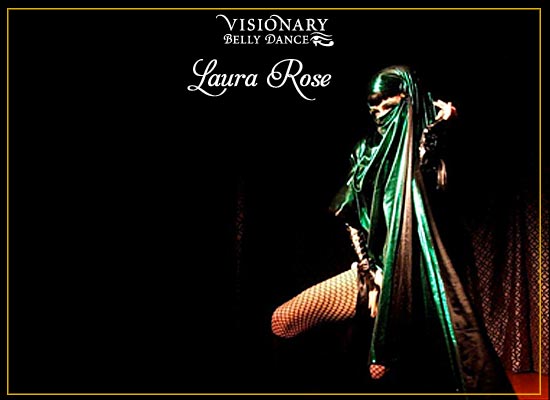 "Laura Rose" By Delilah
Laura Rose has been belly dancing since she was born—having been raised as the daughter of Delilah, how could she not? She would accompany me to workshops across the country and went to many of our Visionary Belly Dance Retreats in Hawaii with her sister Victoria. She got to meet and study with famous dancers for 10 days at a time. She would fall asleep to Sirocco (Sulyman's oud and cymbulum, Armando's tar and drum) as well her father's dreamy key boards, ney and Rumi poetry. She was young. Belly dance was like the food and water of life. It was not something competitively acquired and manipulated by the hands. It was experientially absorbed by way of osmosis. It went straight to the gut and was commonly digested. For Laura Rose, belly dance was fun but it was also "Mom's thing", so there has always been a healthy spirit of independence in Laura Rose. This is a good thing. The culling of techniques would come later and in the spirit I always suggest, "Study all things, be a creative vessel."
Laura Rose loves costuming, makeup, theater and spooky things. She has always had an amazing imagination and routinely led all the kids in the neighborhood in elaborate, imaginative fantasy games. She transformed herself and her playmates into enchanting characters. "What shall we play? Who shall we be next, Laura Rose?" they chimed. She mesmerized the other kids. As she got older, her mind inquired further and her fantasy grew.
She made movies as school projects. She was in drama in high school. She did Shakespeare and comedy and played the role of Eva Tanguay, a vaudeville star, at The Moore Theater on 2nd Ave. She cultivated a fusion of musical tastes brought up with her father's, Steven Flynn, dramatic musical soundscapes (his solo albums), rock and roll (with Jr Cadillac), blues (with Brian Butler) and Classical Turkish (with the Mevlevi Dervishes). Meanwhile she was listening to the likes of Nine Inch Nails, KMFDM, Skinny Puppy, Ministry and Marilyn Manson.
She graduated from The Evergreen State Collage with a degree in video and film production. There, she made lots of spooky movies as well as a heart-felt documentary about belly dance and the Aphrodite archetypal experience. I marveled at her diversity.
After college, she came home and reedited and produced five of Delilah's instructional video programs into DVDs and added 90 minutes of new programing to each volume. During that process she studied every inch of her mother's video archives—both performance and instructional—with a magnifying glass. All of a sudden, the belly dance bug bit her. She got costume ideas, one after the other! She'd come running out of the editing studio with her hips articulating complex patterns saying "Like this Mom? Like this?"
"Yes my dear, by Goddess, you've got it! And you have more, you have a gift for the fantasy of the dance!"