Start the New Year out with a new exercise program!
A Great Christmas Gift for friends and daughters!
Tuesday Dec 27 also offered Monday  Jan 2nd (these 2 class are offered at the beginning of the year so you can start fresh)
"Power Belly Basics"
Start the New Year out with a new exercise program!
A precursor to beginning belly dance and our Power Belly Workouts.
COST $28 Weight belt use and coin hip scarfs are included.
What is Power Belly?
A Belly Dance workout that conditions the body, beefs up endurance, conditions the heart aerobically, teaches co ordination, core balancing, body isolations and step transition. It brings about fuller sensory awareness. It's done to live music most of the time. We use weight belts for maximun results (but it's not mandatory) .
Know two things:
1. Belly dance is a feminine empowering way to exercise. Our power belly class uses live music. It connects body with community as we dance with a fun group of all age women. A joyful way to exercise!
2. As an art form that manifests as performance it feeds the individual dancers soul with creativity, self expression and empowerment.
This aspect requires study, degrees of athletic endurance (depends on style and goals) , practice and beautiful costumes. We have other classes, performance events and projects you can join for those aspects.
Power Belly
Beginner, Intermediate and Professional
All levels of experience can be members of our Power Belly classes!
All you need first, is an over view of how the body is aligned and what the goals are for this dance form.
This 1 1/2 hour class is aimed at this intent.
Shimmies, flowing body moves and isolations, hip lifts exotic arms, energy alignment
This doesn't means you have to know how to do everything to be in a Power Belly Class. You will dance next to ladies who have been shimming for years and that works great because shimmies are contageous! Everyone learns more as they keep taking power belly classes that are offered on Tuesday and Thursday nights and if there is interest we sometimes schedule them on weekends.
Mostly women like to come to class after work or school. Also we have Electra Belly on Wednesday nights (similar structure)
We have dancers who have been doing Power Belly since it's inception over 10 years ago.
That says something for it's staying power!
Bring your Belly!
Dates:  Dec 27th
Time: 7:00pm – 8:30pm
Cost: $28 includes Weight Belt use  Cash or Check
Pay online $30 or $55 for Both Sorry No Refunds
Dates:  Jan 2nd 2012
Time: 7:15pm – 8:45pm
Cost: $28 includes Weight Belt use Cash or Check
Pay online $30 or $55 for Both Sorry No Refunds
Homework: Please read our Student Notebook before class.
How to register
Please download and print our registration form, fill it out and send it in with a check. We also have a mail slot at the Studio. Sorry, we do not take credit cards for classes.
---
Delilah
Delilah is an internationally acclaimed belly dance performer and instructor. She was the first dancer to receive the Dancer of the Year Award from the International Academy of Middle Eastern Dance in Hollywood, California 1997. Delilah grew up in Southern California, learning the dance form as it was passed on and popularized in this country by first and second generation immigrants from Lebanon, Armenia, Iraq, Syria, Iran, Egypt, Israel, Turkey, Morocco and Greece. Her years of devoted study and practice have led her to become one of the foremost teachers and innovators in the field of bellydance today.  More >>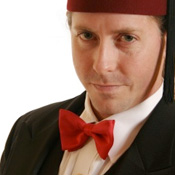 Erik Brown
Erik Brown began his musical career with the bass guitar in the mid 1980's performing and recording in Washington DC. After he moved to Seattle, Erik began to seriously study Arabic percussion in 2003 after a ground breaking lesson with master percussionist Souhail Kaspar. As an eternal student he has continued to study with many master percussionists including Faisel Zedan, Karim Nagi, Uncle Mafufo, Issam Houshan, Said El Artist and Tobias Roberson to name a few. Today, Erik is one of the most sought-after players in the northwest, and he's renowned for his ability to connect with dancers during live performances. More >>