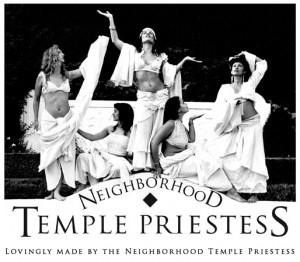 Come join other Neighborhood Temple Priestess to learn how to contribute to our community through dance.
Class Description:
It's a "virtual smorgasbord of beautiful dances, rights of passage rituals and techniques."
Grounding & Centering
Prayer to Ishtar
Veil Therapy
Energetic & Trance Work
Mirroing
Mock Baby/Wedding Shower (?)
Fire Element lead by Christine (if she can tailor session to be less than 90-min)
Date: May 18, 25 June 1, 8
Time: 6:35pm – 7:10pm
Cost: $10 each
How to register
Please download and print our registration form, fill it out and send it in with a check. We also have a mail slot at the Studio. Sorry, we do not take credit cards for classes.
Background: What is a "Neighborhood Temple Priestess"?  NTP is Not a religion but  a group of women that act as community facilitators to mentor other women and demonstrate the power behind this ancient dance. We support belly dance in all its artistic diversity and embrace various style of belly dance. This gathering is not intended to compete with professional performance venues, rather to fill a charitable niche by hosting meaningful social occasions for women in need: baby showers, wedding showers, healing times, wakes, ground breaking events.  They strive to lend support to organizations like Code Pink, Women for Peace, Battered Women's and Homeless Shelters, Senior Centers and Children's Hospitals.  NTP is an auxiliary group of Visionary Dance and is supported by VDP and it's community of students and friends and is supportive in return to VDP.
NTP ACTIVITIES & EVENTS:
SOLSTICE PARADE
FALL EQUINOX – September 23, 2011 @ 5:05am EDT
TROLLOWEEN
WINTER SOLSTICE
BABY SHOWERS, WEDDING SHOWERS, ANNIVERSARIES, BIRTHDAYS, HOUSE BLESSINGS, etc.
VDP/NTP YARD SALE