"GIRLS JUST WANNA HAVE FUN "(Pop Choreography) –
A Belly Dance Choreography workshop with the lovely and  warm hearted PETITE JAMILLA
9:00-10:00 break 10:15- 11:30 am, (doors open at 8:30)
Sales, photos and schmooze after workshop.
Pot Luck across the street at 12:00 noon. (after Drum workshop is over) Bring something delicious to share.
How to register
Please download and print our registration form, fill it out and send it in with a check. We also have a mail slot at the Studio. Sorry, we do not take credit cards for classes.
Advanced Registration by Feb 10th
Send form with your check by Feb 10th.
Cost $45 in advance, space limited
If space is left after Feb 11, $55 at the door.
Time: 9:00am – 11:30 am
Date: Feb 13th 2011
Cost $45 in advance by Feb 10th , space limited
Call first 206 632-2353
Special engagement, No Refunds
Location:
VDP Studio, 4128 Fremont Ave North, Sea Wa 98103
Directions: VDP Studio is on the corner of Fremont Ave N and 42nd. 2 blocks west of Highway 99. Both doors belong to the studio one or the other will be open.
Parking is easy on street please for free. Please  do not park in back of the building (belongs to apartments)
Also on easy easy bus route #5 or #358
---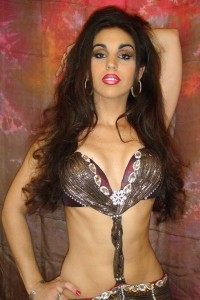 With an award winning style that escapes definition, and talent that is inescapable, this Southern Beauty has been bellydancing her entire life, and charming her way across the world. Petite Jamilla is carrying on her mother's legacy, Jamilla Rasa, by bridging the generation gap between the traditional folkloric style and modern bellydance fusion. She's been performing and studying her eclectic style of bellydance intensively for over 11 years becoming professional and touring the Southeast U.S. from the age of 15, a seasoned instructor by 17, and by the time she was 19, she had 2 instructional independently filmed DVD's on the market. Before her 5 years of touring history with Bellydance Superstars, Petite Jamilla traveled to Paris France as the featured artist for Karen Graffeo's art exhibition which documents life in Roma refugee encampments throughout Europe. She has performed alongside the Rabat Orchestra, and even, American Idol Ruben Studdard. Zaghareet Magazine recognized Petite Jamilla's talent twice by gracing her as the cover artist and featured story in 2004, and awarding her with the title "Best Kept Secret" in 2006.