Dear Dancers
Elisa Gamal will be a featured guest at VDP STUDIOS for an 8 week session. Do not miss this opportunity to study with one of the best cabaret performers around. After this class you will  have an advanced sense of grace and balance that is particularly gleaned by practicing the veil dance.
Come play with Elisa Gamal. She has a whimsical and sensuous sense of humor that makes this a fun and informative class.
You will develop skills, practice drills, wraps and reveals, turns and spins.
Then in the second part of the series you will put it all together into a choreography and hopefully a few students may perform it in one of our Student & Staff recitals up ahead.
Current Session 8 Weeks
Date: Oct 26 Nov 2, 9, 16, 23, 30 Dec 7, 14
Time: 7:45pm – 9:00pm
Cost: $110 or $100 with 5 Day Advanced Registration
How to register
Please download and print our registration form, fill it out and send it in with a check. We also have a mail slot at the Studio. Sorry, we do not take credit cards for classes.
---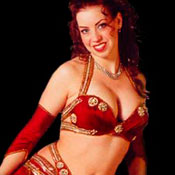 Elisa Gamal is entering the third decade of her love affair with Middle Eastern dance! She took her first belly dance class in 1987, and made her professional debut to the stages of Seattle in 1994 after being hand picked by the MB Orchestra to join them as a house dancer. Highlights of her career include winning numerous solo and group awards including the 1999 Bellydance USA and 2006 Seven Veils Champion titles, being featured on the cover of Jareeda magazine, and performing as a guest with the Bellydance Superstars on their first US tour.  More about Elisa>>