Come and surrender to the music and your body. Come dance freely without judgment or goals. We do a gentle warm up followed by over an hour of self-shaped dancing. The music is continuous, slow and fast, and from all over the world. Some verbal imagery will invite you to let go of expectations and explore your own movement. It's a time of free and ecstatic dance, belly dancing with our sisters.
Date: April 1st 2011
Time: 7:15pm – 8:45pm
Cost:  $15 cash, $18 check
How to register
Please download and print our registration form, fill it out and send it in with a check. We also have a mail slot at the Studio. Sorry, we do not take credit cards for classes.
---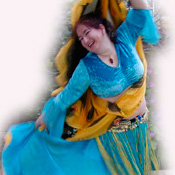 Christine Hamby
Christine Hamby has been diligently studying belly dance from tribal, and American Classical perspectives for over 10 years with Zanbaka, Delilah and more. She is a regular dancer in many of the Visionary Dancer projects such as Solstice events and Garden of Allah.