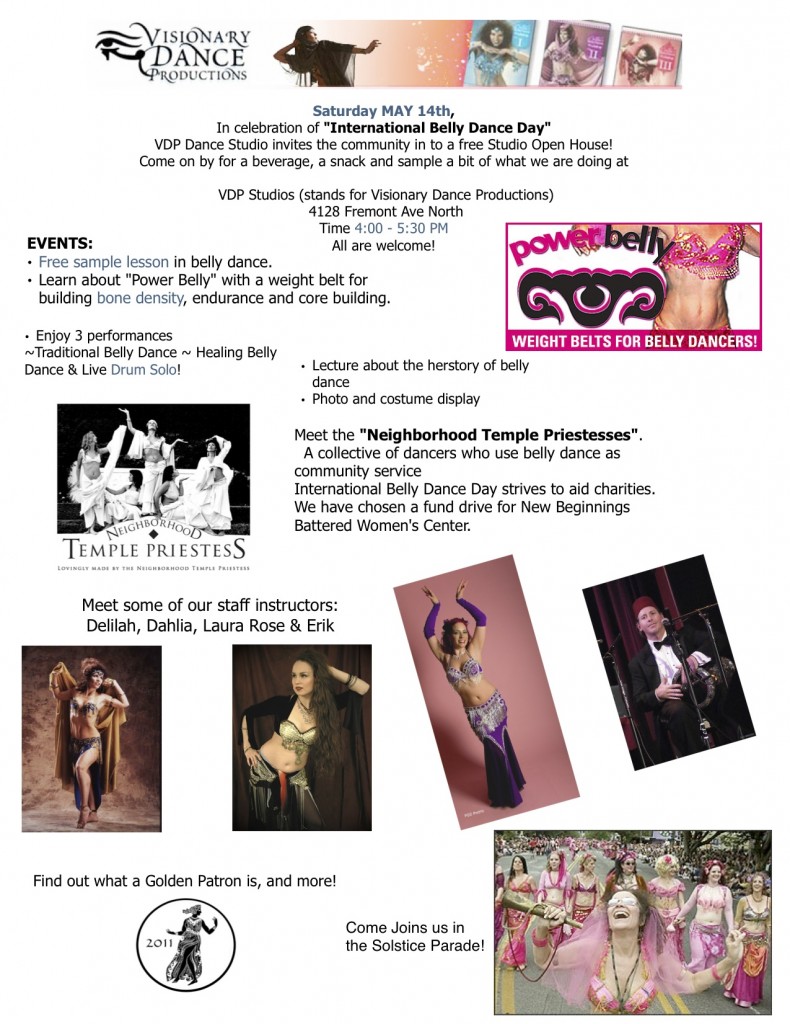 Saturday MAY 14th
In celebration of "International Belly Dance Day"
VDP Dance Studio invites the community in to a free Studio Open House!
Come on by for a beverage, a snack and sample a bit of what we are doing at
VDP Studios (stands for Visionary Dance Productions)
4128 Fremont Ave North
Time 4-5:30 PM
All are welcome!
EVENTS:
Free sample lesson in belly dance.
Learn about "Power Belly" with a weight belt for building bone density, endurance and core building.
Lecture about the herstory of belly dance
Photo and costume display
Meet the "Neighborhood Temple Priestesses".
A collective of dancers who use belly dance as community service
International Belly Dance Day strives to aid charities. We have chosen a fund drive for New Beginnings Battered Women's Center.
Meet some of our staff instructors: Delilah, Dahlia, Laura Rose, Erik
Enjoy 3 performances
Traditional Belly Dance,
Healing Belly Dance
Live Drum Solo!
Find out what a Golden Patron is, and more
Cheers Delilah
PS
We do have a beautiful space with cieling light grid wood floors, mirrors and rich ambiance.
We do rent it out for photo and video shoots, rehearsals, parties, concerts and more. Welcome to come check it out.