Wednesday Night Fall Classes
Absolute and Complete Beginning Belly Dance with Delilah'
"Haven't you always wanted to do this? Now is the time!"
Starts Sept 13 – Dec 6 Wednesday Nights 6:30-7:45
12 Week course in Classic Arab -American Cabaret belly dance style taught by the world renown performer/ instructor Delilah. Limited to 8 students.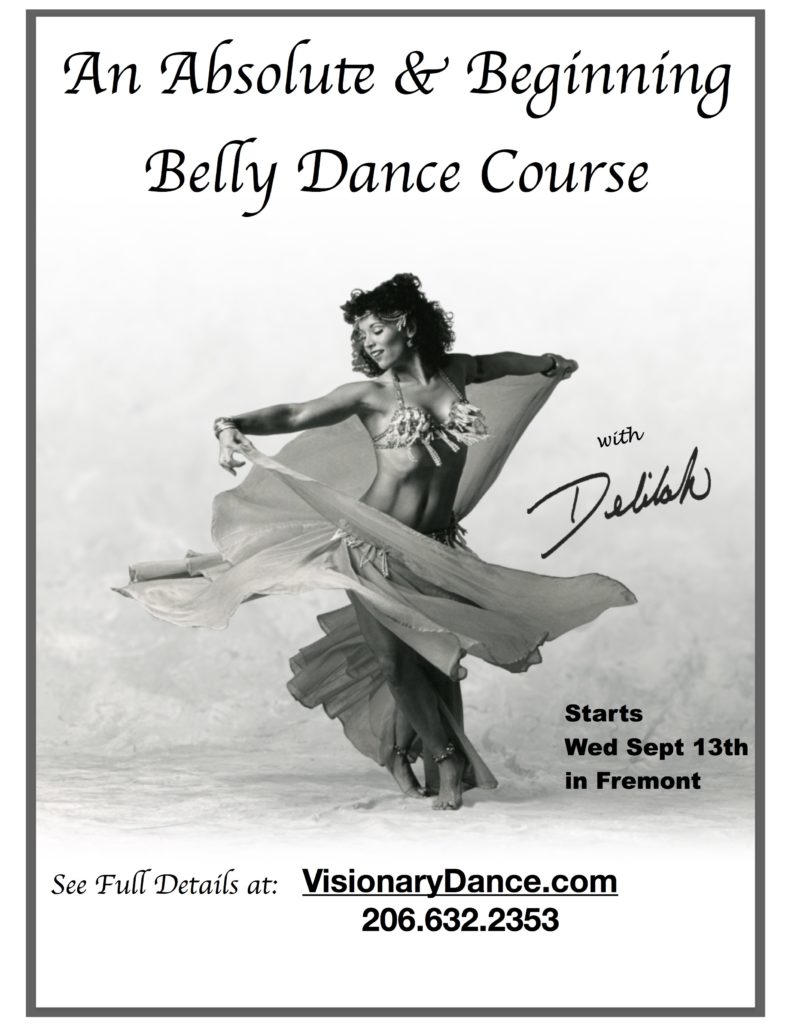 Class Cost
Early Bird Special $180 if registered before Labor Day Sept 4th, $200 after.
Includes for 12 (75 min. classes ) plus group field trip, Hafla dance night and your choice of a beautiful 5 row Egyptian bead and coin hip scarf, or an instructional DVD. Either valued at $30- $45.
"There is nothing more sensually enchanting about ones first introduction to belly dance than tying up that first sparkling bead and coin scarf around your hips and thighs. Then with every measured step their delicate tinkling calls out, " light the candles and incense, I'm near and swaying to the melody and heart beat of the drum".
Don't worry if you miss a class we will do lots of review.
Week 1 Sept 13, Intro to basic body alignment and techniques for hip torso isolations to Cheftitelli drum rhythm and taxim melody lines.
Week 2 Sept 20, Review (so if you missed the first class don't worry) plus slow isolations arms and hands.
Week 3 Sept 27 Fast traveling and 9 different ways of shimmying! Learn Balady Drum Rhythm
Week 4 Oct 4, Review and catch up. Field Trip; Go see Skinny Dip Belly Dance show 6 blocks away in Fremont at 8:00-10:00
Week 5 Oct 11, Combination hip patterns and traveling.
Week 6 Oct 18, A Fun group choreography
Week 7 Oct 25, Delilah shares costumes and make up secrets. Just in time for Halloween!
Week 8 Nov 1 Veil dance. Skirt dance, and the delayed line. Skinny Dip Belly Dance show 6 blocks away in Fremont at 8:00-10:00 (always fist wed of the month.)
Week 9 Nov 8 Belly Rolls, Undulations, Camel walks.
Week 10 Nov 15 Hafla! What is this? Dress up in costume and dance for each other. I may have stuff for you to wear. Dance and Drum solo demonstration. Invite a guest if you like. Snackity pot luck! Class will go longer.
Wednesday Night Class Skips Thanksgiving week.
But check out our annual Thanksgiving Morning class called "Giving Thanks to a Woman's Body" 10am-12pm
Week 11. Nov 29 Review and introduction to finger cymbals.
Week 12. Dec 6 Drum solo (maybe with a live drummer, have to see his schedule)
Congratulations you have completed Delilah's Basic Introduction to Arab-American Cabaret Style Belly Dance.
Please download and print our registration form, fill it out and send it in with a check. We also have a mail Box at the Home Studio.
Pay Online Here>>
---
Delilah
Delilah is an internationally acclaimed belly dance performer and instructor. She was the first dancer to receive the Dancer of the Year Award from the International Academy of Middle Eastern Dance in Hollywood, California 1997. Delilah grew up in Southern California, learning the dance form as it was passed on and popularized in this country by first and second generation immigrants from Lebanon, Armenia, Iraq, Syria, Iran, Egypt, Israel, Turkey, Morocco and Greece. Her years of devoted study and practice have led her to become one of the foremost teachers and innovators in the field of bellydance today.  More >>