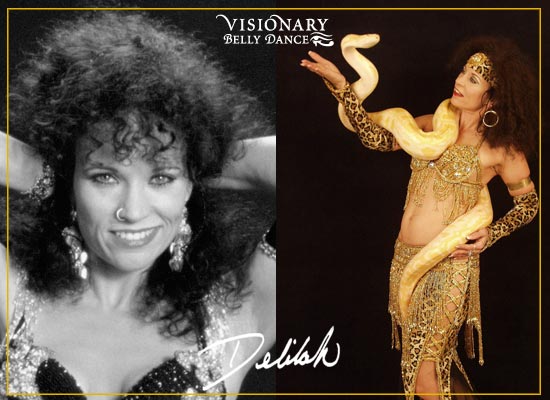 Since 2005, Delilah has owned and operated Visionary Dance Production, parent company for VDP Studios and Delilah's Belly Dance Retreats, in Seattle. VDP Studios holds many weekly classes and guest star workshops. Annual events include:
April: Garden of Allah, a spring class and concert
May-June: Billion Belly March, in the Fremont Solstice Parade
November: Giving Thanks to a Woman's Body, held on Thanksgiving morning
January: Hawaii Belly Dance Retreat
Delilah can be seen performing with House of Tarab, a 6-piece Middle Eastern music ensemble. She enjoys working with award winning dancer Dahlia Moon and her daughter Laura Rose, who is also a belly dancer and notable performance artist. Together, Laura Rose and Delilah produce new DVD projects and host dancers in all styles of belly dance in the studio as well as at her annual retreats in Hawaii (generally held in January and sometimes Easter). The retreats sometimes offer an Instructors Study Program.
Delilah travels and gives workshops around the world. Usually with the live music accompaniment of Erik Brown (of House of Tarab) and others. She also writes articles for belly dance magazines and, from time to time, leads tours abroad.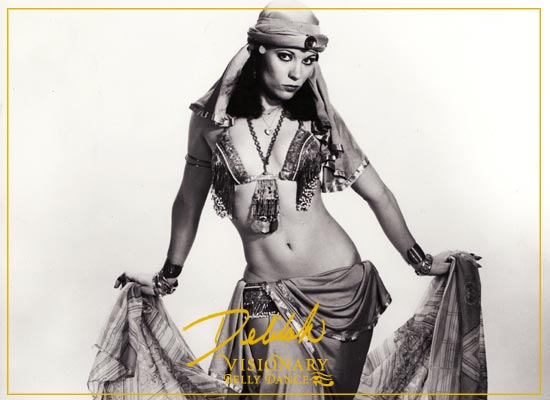 When Delilah was 18, belly dance was fast becoming an American phenomenon. As thousands of women absorbed this dance by way of diverse cultural experience, a new style of American Bellydance evolved. Delilah is an active part of this transformation. While dancing in ethnic nightclubs, fairs, theater productions and folk-style house parties for almost twenty years, she has learned many different styles of dance, and has also learned about music, food, customs, religions, politics and people. Her bellydance experience fuels her interest in studying the fields of mythology, archeology, history, women's studies, bio-ecology, psychology, healing practices, and other movement forms such as tai chi, yoga, modern dance and movement therapy.
She later moved her home base to the Northwest and began teaching and performing the dance in workshops and concerts all around the world. Delilah continues to disseminate her philosophies, techniques and performing artistry on a highly-acclaimed bellydance instructional video series produced by Visionary Dance Productions. These tapes and DVDs cover a wide range of material: hip lifts, undulations, bellyrolls, veilwork, make-up, costuming, finger cymbals, conditioning exercises, choreography, philosophy; and include performances demonstrating a multitude of styles; American Classic, Egyptian cabaret, gypsy, tribal, fusion, character, pharaonic, ritual, healing, therapy. Her emphasis is always on health, creativity, and fun!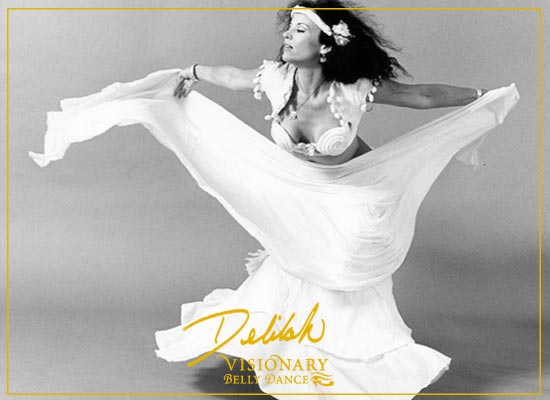 Delilah supports diversity in the dance and enjoys all of its styles. She sees the bellydance as never stationary, but, like most art forms, always in a state of creative flux and growth. She encourages the student to examine and experience the dance in its variety of disciplines. In addition to openly sharing her technical knowledge with her students, Delilah imparts the idea that by opening our bodies to these ancient, earthly, and natural movements that connect us physically, emotionally, and spiritually, we will become more aware environmentally. This gives the dance greater purpose.
Inspired by this wisdom, Delilah held her first ten-day Visionary Belly Dancing Retreat on the island of Maui in 1992. This annual retreat is now frequented by dancers from all over the world.
When we are more aware, we are better artists, enjoying a fuller life experience. When we stretch our awareness, we are more equipped to heal our bodies, our relationships and our earth. Belly dance empowers women!