Today the NTP  hosted a baby shower at Visionary Dance Studio. (The NTP is short for your friendly Neighborhood Temple Priestess)
We have developed a line of specialty dances for different occasions. Which ones we do depends on who in our group is available. The other members set up and serve different aspects of the event. This is just one of the things  we mean when we talk about  belly dance as community service. Our intention is not just to entertain, but to facilitate in making moments in peoples lives deeply meaningful.
Our expectant Mother today was Veronika. This was the second shower we have hosted for her. Her first son is almost two years old and, surprise! Here comes baby number two. The first shower we hosted for her meant so much to her that she wanted another us to help celebrate this baby too. Of course! However this shower was very different.
Daddy, baby and friends with their kids were present and Veronika danced for us first! VERONIKA'S DANCE: She danced to 3 songs and changed costumes in between! fantastic! She was so relaxed and expressive! Every dance was sharing a different stage of the story of her family. It was so special. There were 6 NTP present and we stood in the back dressed in our soft white belly dance bedlah and teared up. No, actually we sobbed and huddled together arm and arm. We were so moved! I wish all women could have seen this today.
Then three of the NTP took turns like three good fairies gifting Veronika with short dances. Kalaura did an ARTEMIS BLESSING DANCE with bear ears (Artemis is the Goddess of Easy Delivery) Roxy did a very sweet and joyous SISTER DANCE that Veronika had requested. I (Delilah ) did a ROSE DANCE with a rose print veil and essential rose oil . Then it was time for everyone to dance with the children. Fun ! We shared food and did a body painting with the children on Veronika's belly.
So beautiful. I just love doing these events. It gives life meaning to us as well as the guests.
*** More about Belly Dance and Pregnancy
We have pregnant women in our belly dance classes all the time. It enriches everyones belly dance class experience to dance with pregnant women next to them. We have tried to have BELLY DANCE especially aimed for PREGNANT women. But it's impossible to get a gang of them together at the same night it seems. Plus they go through phases of varying energy. I have a beautiful class plan where each Mother would create her very own birth dance in her last trimester for her family friends and fellow dancers. I supposed if we advertised with a Women's medicine clinic near by we would have more success, but I've never been sure how to do that. We would need the support of a birth care providers endorsement to help point pregnant women in our direction. So far non have stepped forward even though they think it's cool they probably feel it's not a professional mix and worry about liability issues. So what we do instead is just incorporate them into our regular class and give extra guidance.
Any of our students that participate in classes while they are pregnant get to have us gift them with a special baby shower by the NTP if they like. We do baby showers for women who are not belly dancers as well. Our service are sliding $150-$200 (in our studio) and these fees go towards supporting our beautiful dance space. When we charge a fee I or another at least one professional dancer is guaranteed to be present as a performer and then the different levels of NTP dancers donate their time and learning how to facilitate events and fill in with side line dances. Each shower is custom designed to the wishes of each honored Mother.
Veronika has been doing Power Belly in our studio for 4 years or so along with other kinds of exercise during the week. She is very accustomed to doing Power Belly so it was not a new exercise regime and she is very conscious of her bodies needs and limits. Every women is different. However the participation in a belly dance class during this time in a woman's life can be very empowering. Of course they abbreviate the dance to fit comfort and ease. That's what is so cool about belly dance is it can be folded into individual capabilities. If some one has never belly danced before and they just became pregnant we are not going to suggest they do alot of strenuous endurance training but the softer approach of belly dance will bring a women's awareness into her body so she becomes more aware of her bodies changes and can truly be present with this special time in her life. We encourage the story line in dance like veronika demonstrated today. This makes it a rite of passage and a vivification of life experience and our connections we share to each other. Dance is story. My  "Dance to the Great Mother" performance I did in my last trimester with my second daughter is available on DVD in our studio shop and online.  I choose to use an Ancient Egyptian Theme and personify ISIS the GREAT MOTHER. As a professional dancer I was able to perform my birth dance publicly on many theatrical stages during my entire pregnancy and it was an incredibly powerful position to occupy in my life and in our culture. Every women should feel the presence of the goddess within her at this special time in her life..
Alex is another of my students who just did a birth dance while in labor and put it on You Tube the other day. Makes me so proud that this is happening in our world today.
Mirayah Delamar  DIVINE MOTHER 1992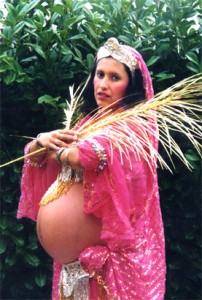 More articles
https://visionarydance.com/delilah/inspiration/
Morocco's Story
http://www.orientaldancer.net/articles/roots_of_oriental_dance.shtml