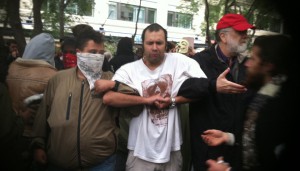 An Invitation:
ED MAST, a famed Seattle playwright has written a political play he is doing for FREE in living rooms and spaces in Seattle.
(I really love his stuff so this ought to be great!)
The play is 45 minutes long and the rest of the time is for group discussions. The occupy movement is augmenting into different ways shapes and forms for all folks to get involved and feel apart. Ed's plays and street theater works are always engaging and thought provoking.
I hope you will be able to attend
Do you know others who might like to come?
Please let them know by talking and forwarding this invite.
Lets get involved!