Delilah's Secret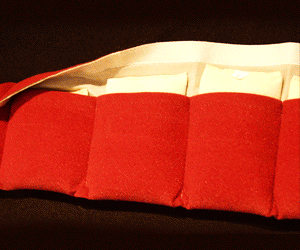 Ever wonder what makes Delilah such a strong dancer? Here is Delilah's training secret: she adds an 8 to 12 pound weight belt to her hips while practicing new moves or doing her daily workout to dramatically improve her core body strength, balance, and endurance.
How it Works
This technique is for the beginner, hobbyist, professional dancer or instructor. It speeds up the time it takes to learn a new hip move. The subtle extra weight makes you work a little harder. When you remove the weight belt, the muscle memory is there and your hips move like greased lightning! It's a great warm up device before a show or contest.
A weight belt is indispensable for every dancer's health, as it also builds valuable bone density to counter osteoporosis. It strengthens the back and abdomen and relieves backache.
The weight belts are soft, feminine, washable, and the weights are removable. The belts are great for wearing while practicing many other activities.
Note: Top dancers and hobby dancers all over the world are swearing by their Power Belly Weight Belts. It's really an amazing phenomenon! It makes us very proud to make this available.
Weight Belt Uses & Benefits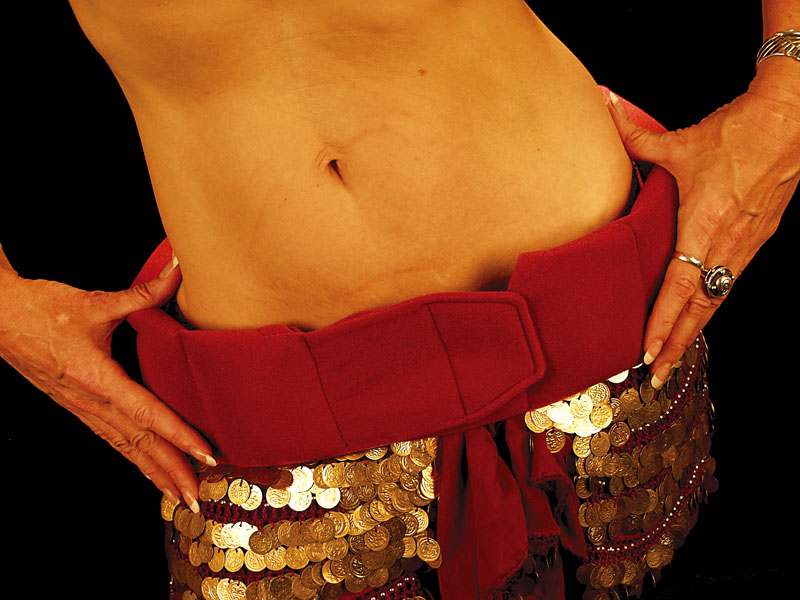 Simply fit it snuggly on your hips and proceed to practice your belly dancing. Because the weights are evenly distributed and close to your body you quickly assimilate the weight as your own. You barely notice any difference at all. That is, until you see and feel the results of a stronger back, torso, knees and thighs. Your core balance will improve. Your quickness and agility for shimmies and fast hip combination excels by lifts and drops! It's truly amazing!
When you take it off, and you are in for a real treat. You just lost 8 -14 pounds! (the total pounds of the belt). You feel lighter and your hips are more agile.
Other Uses & Therapies
With common sense and the advice of a trained professional you can use your hip weights for other dance forms and activities as well; walking, standing, housework, jogging on the treadmill, step aerobics, tennis, low impact aerobics, ice skating and even certain yoga poses! You will find that wearing the weight belt across your shoulders will help your posture at the computer and ease muscle stress in neck and shoulders. Wearing it on an air plane draws down on the back just enough to leave you feeling refreshed and limber after hours of sitting on the plane.
But that's not all—there are even more benefits! Use the weight belt like a barbell and do an array of weight lifting exercises to strengthen arms and upper body. Weight Belts are safer than barbells because they are soft weights. You are not as likely to drop it and hurt your foot. They are practical and easy to carry to class or gym if you strap it to your hips or waist and have your hands free to unlock your car and front door. Delilah has extra exercises you can use to strengthen and develop skills in other parts of your body, such as your belly, chest, arms, neck, and back.
Heath Benefits
Lose inches around your waist line
Strengthens and improves core body balance
Builds and lengthens endurance times
Develops muscle memory for crisp hip articulation
Shortens the learning curve
Strengthens the back
As do all weight-bearing exercises, they build healthier bones and counter osteoporosis.
Fit and Feminine Design
These belts are designed for even distribution of the weight. They start at 8 pounds and go up to 14 pounds. This means the larger you are the more weight you can carry in proportion to your size. The belt is made with 1 pound packets that can be removed. The belt is washable, soft, more feminine looking than other athletic weight belts and are perfect for our bellydance needs!
Sizing Advice from Delilah
The belt fits by wrap and stick Velcro. This way you can make it snug on your hips. The two heavy duty Velcro tabs need to pass each other, not meet and stick to one another. This gives them plenty of versatility, but you want to make sure you don't buy one that is too small.
Weight Belt Sizes
Small/Petit 8 pounds (fits 22″ – 31″)
Medium 10 pounds (fits 30″ – 39″)
Large 12 pounds (fits 38″ – 47″)
X-large 14 pounds (fits 46″- 55″)
XX-large 15 pounds (fits 50″ – 59″)
Below are sizing tips out of my experience fitting and working with dancers in the belts:
If you are really a petite person then the small 8 pound weight belt will be perfect. You can get a medium but know it will overlap somewhat.
If you are a combination small/medium person then a medium 10 pound weight belt is ideal.
If you are a true medium then you can probably choose a medium 10 pound or a large 12 pound belt.
If you are more a large/medium or a true large, the large weight belt is best.
If you are a large with extra large hips the extra large weight belt may be good, but there is quite a bit of weight in that belt (15 pounds) and that makes it kind of cumbersome to handle. I advise women to buy it for the length but remove 2-3-4 weights. You can also use the extra 1 pound weights in your hands to increase upper body strength, and on your head to increase your core body balance.
Remember: the weights can come out of the belt, so it can be made lighter but once all the pockets are filled it cannot be made heavier. You can go up a size and over lap the weights if you desire. Example: I am a perfect medium and the medium belt fits and looks great, but I wear a large weight belt and overlap the front (probably because I'm so athletic). I like the extra pounds. When we use the weight belts I do not think we need to set the goal of challenging ourselves by adding more and more weight. Not at all. The benefits and goals are more delicately obtained. I do think it's a matter of preference. I happen to like 12 pounds.
---
QUESTIONS?
What should you do if you order the wrong size?
Call Visionary Dance Productions and we will ask you to send the belt back to us, but not all the the weights. We will give you our office address in Seattle. We will make the adjustments smaller or larger—no problem.
Is the weight belt returnable for a refund?
Yes, within 30 days minus shipping and a 15% restocking/handling fee. However it must be unused and resalable.
I am a teacher. Can I get discounted weight belts to sell to my students?
We love teachers who want to pass the benefits of weight belts onto their students! We carry and sell weight belts because we support belly dance and have found these tools to be just amazing. These high quality belts are American made by your sister belly dancers, and our price is so close to the actual cost, we can not discount them. You are already getting wholesale price, but you are welcome to add your own retail price. What we can do is cut the shipping on multiple belts shipped to the same address. Call us to place your order and receive shipping savings.
Disclaimer
It should be recognized by the reader that Delilah or Visionary Dance Productions cannot be held personally liable for injury resulting from the use of the Power Belly weight belt. We cannot make individual or personal recommendations on exact use of this product from a web site. Please consult your personal doctor or physical therapist to answer any health questions you may have before using this product. Please read the information we have provided here and know there are many potential benefits and different ways to use your belt and the weights. The use of this product is at the owners discretion.