Learn the Tabla drum and take Belly Dance classes at the Phinney Neighborhood center
Three Saturdays

from 11am-2pm
11am-12pm – Tabla Class with George Sadak

12-2pm – Belly Dance with two different instructors each month bringing you a smorgasbord of styles and techniques from dancers; Ruby, Delilah, Suzanna, Dahlia, Nadira, and Mirabai.
The Phinney Neighborhood Center
6532 Phinney Ave N, Seattle, WA 98103
---
The Tabla Workshop series with George Sadak
George Sadak will teach an hour long beginning/intermediate tabla class each month. You'll have a month in between to practice. You'll need to bring your own tabla style hand drum with at least an 8 inch diameter to the class. . Remo has a variety of priced drums. Make sure your drum has over an 8 inch diameter . Remember to move your rings from fingers. You don't need an expensive one to practice. Here are some from Amazon.
(For advanced drummer and percussionists inquire with George about private lessons 206-391-4848)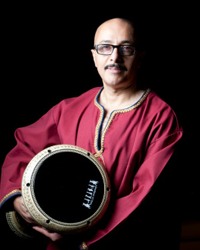 George Sadak Master percussionist and instructor. When George first came to Seattle he and Delilah performed nightly at the Grecian Corner in Seattle. George's passion for the Egyptian tabla started early on in his hometown of Alexandria Egypt. His career of 30 + years covers recording, teaching & touring in the US & abroad. Fun instructor! Plays locally at restaurants and events.
---
The Belly Dance Workshop Series
Each month we will feature two different Belly Dance instructors teaching different aspects of the dance. It's meant to bring you a variety of belly dancer instructors, so can sample an array of styles and perspectives of the art of Belly Dance through our areas top professional teachers and performers.
Todays modern Belly Dance has many styles, fashions and dimensions that have creatively evolved over the pst few decades. Interest in the dance art has become a world wide phenomena in this information age, and women of all cultures have discovered it's beauty. Each has added something unique to it. It's a dance of body isolations where the dancers learns to creatively express themselves with every part of their body. It involves fast moves, slow moves, silky veil work and fans, floor gymnastics, balancing acts, drum solos, sword dance, finger cymbals and a variety of folkloric and trendy modern stylistic influences.
Delilah's will kick off the first class with Georges live drum accompaniment for a lively workout and introduction to some of her signature moves. This will be followed by a course in rhythmic musicality taught by our wonderful Ruby coming up from Portland, Oregon. As seasoned instructors we all know that the Middle Eastern drum is an integral part of learning the dance more completely. So we hope dancers will sign up for both the Drum & Dance parts of our offering!
Let's belly dance!

Saturday September 14th
H.O.T. House Performance
Also. . . On Saturday September 14th we are having one of our famous H.O.T. House Performances. Featuring the live music of the 5 member Middle Eastern music ensemble called House of Tarab. With dancers Nadira, Delilah, & Anyelle. You won't want to miss it!
---
The Belly Dance Instructors
Delilah & Anyelle – September 14th
Delilah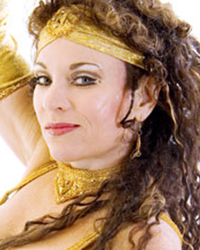 Pioneer of American Middle Eastern Cabaret belly dance in North America. among other styles and innovations to her credit. Traveled, performed, taught internationally. Known for her for her Delilah's Belly Dance Workshop Dvd series & mesmerizing signature performance style. A crusader for live music performance!
Teaching: Signature Delilah Moves w George's live drum accompaniment. Please bring a towel.
Contact
visionarydance.com
Delilah Belly Dancer on Facebook
Anyelle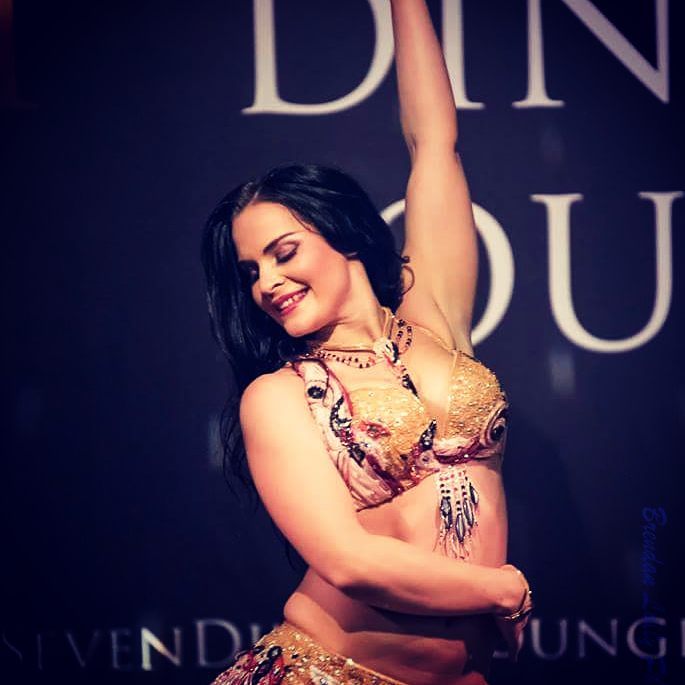 Anyelle began explorating world dances, but Middle Eastern dance soon won her heart. After studying intensively with Ruby, Delilah, and more, Anyelle went on to win several national titles including Bellydancer USA 2014. Known for her strong and energetic style, and beautiful spirit. Most recently, she completed all 4 levels of Sahra Saeeda's, Journey Through Egypt, which culminates in a 3 week immersion program in Cairo and Upper Egypt. www.facebook.com/anyellebellydance
Note; Originally we had Ruby scheduled. We regret Ruby has had to cancel her teaching spot. If all goes well with this series, we hope to see her in the next series.
Teaching: Teaching–Undulations: Foundational technique and tips on incorporating them into your dance. Bring a yoga mat. ALSO; Anyelle will also be a featured dancer at the H.O.T. House live music concert scheduled the same night along with Nadira and Delilah on Sept. 14th

---
Dahlia & Susanna – October 12th
Dahlia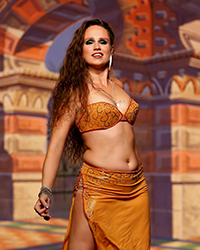 Dahlia is a well respected multitalented performer and trainer of beginners and professionals throughout Seattle. Known for her defined and emotional movement style, as well for her deep understanding of music interpretation (due to her music studies since childhood).
Teaching: Understanding Stage Dynamics – How to use space. Please bring a notebook.
Contact
"Dahlia Moon" on Facebook
Suzanna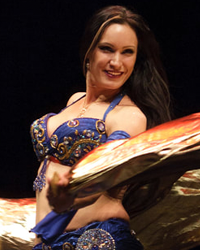 Suzanna blends decades of experience in Middle Eastern, African, jazz, contemporary, ballet, theatre, fitness,. . . studying with masters of Egyptian dance, teaching and performing as a soloist and company dancer, traveling the world, and creatively producing unique events to engage the broader public.
Teaching: "Rakasafit" Please bring a towel.
---
Nadira & Mirabai – November 9th
Nadira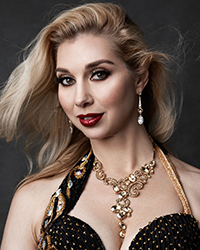 Nadira is a Seattle-based bellydancer, instructor, and choreographer. She teaches and performs Middle Eastern dance locally and internationally, holding seven national titles. Nadira has also been featured on several performance and instructional DVDs, and has a solo instructional DVD out.
ALSO: Nadira is performing with the H.O.T Concert on Sept 14th at Delilah's. Doors open 7:30
Teaching: Luscious Layering Techniques.
Contact
www.nadira.com
Mirabai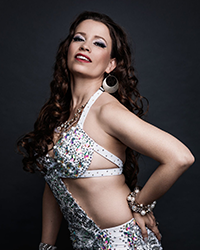 Mirabai is an award winning bellydancer from the Pacific Northwest. In her thirty years in this art form, she has been fortunate to study with many dance legends, and to perform and teach internationally. Specializing in Egyptian folkloric, Raqs Sharqi dances, Iraqi Kawleeya, Arabian Gulf Khaliji, and American Cabaret bellydance.
Teaching: Foundations of Iraqi Kawleeya style. Note: there are modern versions that are quite athletic. This is a very popular style right now. This class will be accessible to all.
---
In remembrance of Mr. Erik Brown who passed away 11/11/2018
Let us celebrate his memory with drums and belly dance! Erik was a beloved musician who inspired so many to be enamored with the arts. He played bass on the east coast since his teens and then picked up the Middle Eastern tabla when he moved out west. He played drums with the 6 piece Middle Eastern ensemble called "House of Tarab" for 13 years. AND base and percussion with "Nathanial Johnstone's Band" in the steam punk belly dance scene.
Erik' loved to introduce new people to the rich musical compositions that came out of what is often called the Golden Era of Middle Eastern music. Made popular by the Egyptian movie industry, heard on the radio and used in the Cabaret Style of belly dance ( 1940's-1980's). He loved to teach tabla to perspective drummers and dancers at Delilah's Belly dance retreats, Emerald Sanctuary Summer Camp, For the Fremont Solstice Parade at the Visionary Dance Studio and at Seattles Rhythm festival. Delilah and Erik taught an awesome drum solo dance class together across the country, as well as 49 episodes of an on line class called the Power Belly Show. He recognized that the dancers who really excelled at belly dance also learned to play the tabla as well. They didn't have to take the drum on professionally but knowing the rhythms made a difference in their essential mastery of the dance.
---
Mr. Erik's Scholarship Program
So in Mr Erik's name, we the instructors who knew and loved him are setting up this workshop series with hopes of lighting a fire of new interest as well as reinvigorate our established belly dance community. We are also offering a few scholarships to teens 15-18. We have limited space to take into consideration.
Patrons of the arts: Drumming and belly dance has changed many peoples lives, physically, emotionally, therapeutically, socially and as a passionate interest. If you would like to make a gift to someone, of any age, and in particular by name, well that would be nice too. Simply hit the payment button, let us know who, and have them register. Or let us find someone.
Erik played drum solos for 1001 dancers. We love you Erik!
Contact Delilah with interest in the Scholarship program by emailing delilahbellydancer@yahoo.com
---
Workshop Registration/Checkout
We encourage all dancers to workshop the full package of Drums and Belly Dance to get the most out of this series. We do offer "Just Dance" and "Just Drums" options as well.
Thank you for your advance registration. It makes planning and producing events so much easier.
Cancelation Policy: We allow cancellations up to 7 days before the first class in the series minus a $15 fee. (this gives us a little time to find a replacement for the space you reserved.) Sorry but there are no make ups or refunds for missed classes. With the Early Bird rate you have received a discount for your pledge to be there.
---
Full Package – Drum and Belly Dance
3 hours Middle East Drum classes with George Sadak & 6 hours of Belly Dance classes with 6 professional instructors.
$258
"Early Bird" Special $215
(until Sunday Sept 7th)
---
Drum Class Only
Three part series; Sept, Oct, Nov, 3 hours total with George Sadak 11-12pm
$99
"Early Bird" Special $78 (until Saturday Sept 7th)
---
Belly Dance Only
Three part series, Sept 14, Oct 12, Nov 9, 6 Hours (6 instructors)
$210
"Early Bird" Special $180 (until Saturday Sept. 7th)
---
Please download our registration/waiver form. You will be required to fill out, sign, and return this to us prior to attending class. Please get this to us as soon as you can. Thanks.
If you would like to pay with a different payment method contact Delilah
We may have a few spaces available for dancers who can only make one or two days of the series. This event is intended to be a series and I will not know until Friday September 13th (a day before the workshop starts) if there is space available in these dance classes. Please click here to email Delilah with your class day preference and we will reach out to you if there is space available.
---
Location
All classes will be held at The Phinney Neighborhood Center
6532 Phinney Ave N
Seattle, WA 98103