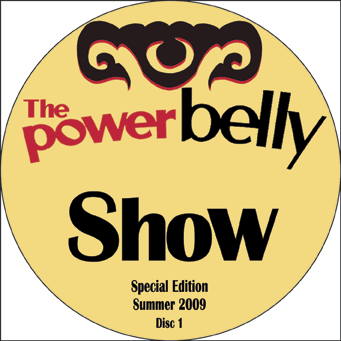 View More Images
Power Belly Show on DVD Set 1
Notice
: wpsc_product_has_file is
deprecated
since WP eCommerce version 3.8 with no alternative available. in
/nfs/c01/h06/mnt/3552/domains/visionarydance.com/html/wp-content/plugins/wp-e-commerce/wpsc-includes/misc.functions.php
on line
739
Set ONE 
The Power Belly Show: A Workout Series
2 Workout sets with Delilah and Mr. Erik Brown.
The Summer 2009 Edition features Episode 9 in its entirety. "Incredible Arm Workout"
"Sweat Your Ass Off", episode 11 Episode 12, "Earthy Workout"
Each episode of The Powerbelly show includes a "How to Do Stuff" segment, short tutorials with a variety of teachers. This Summer 2009 Special Edition includes Dahlia Moon, a resident instructor at VDP Studio in Seattle, teaching Modern Egyptian and Gawahzee 3/4 Shimmies. Delilah talks about balance issues their correction, as well as teaches her famous "Tail Spin" hip move.