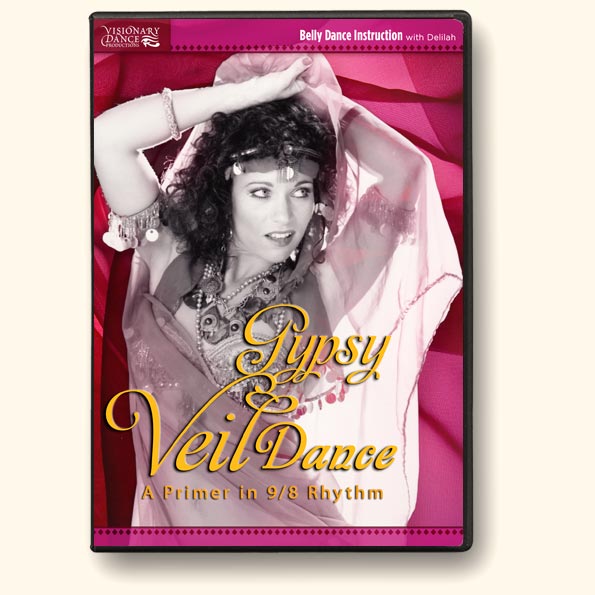 View More Images
Gypsy Veil Dance: A Primer to 9/8 Rhythm
Notice
: wpsc_product_has_file is
deprecated
since WP eCommerce version 3.8 with no alternative available. in
/nfs/c01/h06/mnt/3552/domains/visionarydance.com/html/wp-content/plugins/wp-e-commerce/wpsc-includes/misc.functions.php
on line
739
Belly Dance Instruction with Delilah
In this unique DVD program you will learn…
How to step and move your hips gracefully to a Turkish 9/8 time signature.
Increase balance, timing, agility and general belly dance experience.
Steps, spins, veil passes and combinations
You will become familiar with veils as well as costume designs and construction.
Delilah teaches how to dance with a wider range of veil movements and attitude.
In addition to the typical veil moves belly dancers have been using for years, you will learn faster handling with a more whimsical, fiery finesse. This develops character and a wider range of expression for the dance artist!
Music from "Tapestry of the Dance" by John Bilezikjian and Var Daghdevirian.

Running time:

Program Chapters:
Introduction
Rhythm warm up for mind and body
Step instruction
9/8 step work out
Veil pass techniques
Combination veil passes
5 Performances

Fabulous Extras:
Archival performance footage of 2 of Delilah's unique choreographies: "Lama Bada 10/8 Veil Dance" & "Delilah's Veil Origami"
Costume Stories and tips on all the costumes featured on this DVD and more.
Four different 9/8 Rhythm sound tracks for practicing and teaching: slow, fast and 2 challenging variations.
Veil tips: what fabrics to use and why

Read Reviews!
"This is really a fun and unique instructional dance DVD. There is nothing to compare to it. Every true belly dancer must have this lesson!"
-V.B., Seattle WA
"Delilah's costumes and dancing is gorgeous!"
-B. H., La Mesa CA
"Delilah is a Veil Tamer!"
-S. T., Farmington NM