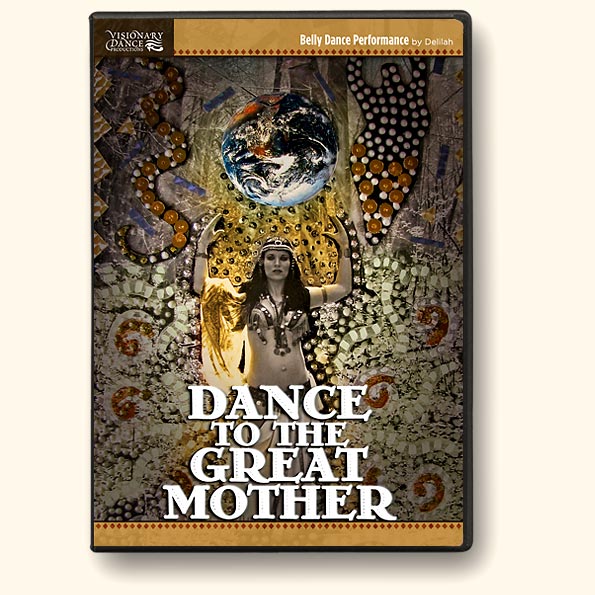 View More Images
Dance to the Great Mother
Notice
: wpsc_product_has_file is
deprecated
since WP eCommerce version 3.8 with no alternative available. in
/nfs/c01/h06/mnt/3552/domains/visionarydance.com/html/wp-content/plugins/wp-e-commerce/wpsc-includes/misc.functions.php
on line
739
This is a truly unique and important dance work, now on DVD. In it, Delilah portrays Isis, the Great Mother. Using the bellydance to speak of one of its original and most fundamental meanings, she celebrates the feminine creative principle. Delilah's dance portrays the joy and mystery of the arrival of new life through the female body. Artfully performed and presented, Dance to the Great Mother is meaningful and courageous. An interview, discussing both the creation of this dance and the meaning of bellydancing for women, follows the performance.
Dance to the Great Mother is a historic and classic sacred dance. This is the dance that has been sited many books and articles. It remains to be one of the most powerful ritual belly dance works to this day.
Running time:
38 minutes, plus additional trailers
Informational Links:
Speical Message About This Program
Dance to the Great Mother was done in 1985 in my third trimester. The dance has 6 parts: A Wooing, This Women has Life in her Body, A Soul is Called, Gestation, and Welcome to the Planet. It is accompanied by a short interview about what I experienced by making this ritual dance during my pregnancy and how it made a huge difference in my life. If I were to do an interview today, I would say that since 1985 this dances has still not been used to it's fullest potential. Even I did not direct people towards it's most important usage until a whole generation had walked past. While it is often given as a gift to women (dancers and non dancers) who are pregnant so few have brought the performance down from the shelf after the child is born. It is important that we show it to our children. Think about it. If our children witnessed a woman doing a moving and powerfully present dance portrayal while she was with child, how might that shape a young man or woman's mind at an early age. Our culture would come to see women differently and to value life. Instead we fill their heads full of television and movies about heinous crimes against women.
Second, I would have to ask why is this dance still an icon amongst dances. Why have not more women made their own ritual dances and shared them with the community? That is my wish. What I learned and experienced opened me up. Not just by watching but by doing! This dance experience beyond all others continually shapes my life as a teacher, mother, activist, and identity as an artist and member of community. Human beings need to be openly creative as much as they need food and water. The original impetus to dance has been largely lost to us. Dance is sacred wordless communion between the dancer and the mysteries. We move, we shake, we skip, we stomp, roll of guts and sculpt the air with embracing gestures in a authentic experience to savor and celebrate life.
One woman was moved to write me and tell me she loved my all work. However, because she never had or wanted children, she didn't buy Dance to the Great Mother. By chance she saw it at a girl friends house. She said she cried and cried because she realized that it wasn't just for women who were pregnant, but it was about the great potential women share and carry within themselves by nature. From the minute girls are aware they realize they carry this potential that is different than boys.
Sometimes women who collect my work have slammed the video down on my vending table in favor of something else simply because I tell them I was pregnant in the piece. If they love all my work why would this dance be any less satisfying just because I am pregnant. Shouldn't it be even more powerful for a belly dancer? It says a lot about how brain washed we are as women against our selves. Woman=Vessel=Body=Earth.
The original dance video has now been turned into a DVD in hopes to continue inspiring women to feel the regenerating power of the Goddess. Image helps shape our future. It is my wish that those that see this dance go on to show it to their sons and daughters so that the world will truly honor all life.
Read Reviews!
"...A portrayal of stunning depth. Dance To The Great Mother draws us in gently with a lighthearted beginning, delicate and charming, yet full of energy and spins. Next, rhythms and movements captivate and lull us until Delilah concentrates her energy, a priestess invoking an ancient power. We are focused too, witnessing with her the awe of creation. Ancient images and primal feelings are called up and honored until we spill over like a fountain with the joy of this dance and what it represents." — Mara Makeda
"When seeing Delilah dance, I could well imagine a queen giving birth in this mamisi while other women were dancing in the temple: the dance of labour, pain, strength, ecstasy, birth and praise. The way she dances could have been exactly the way of dance presented in honour of the Great Mother, Isis, the portal to life." — Gaby Oeftering of Germany
"Drawing inspiration from the archetype of Isis as the Great Mother, Delilah has created choreography that depicts the relationship between a woman and the new life growing within her." —Shira