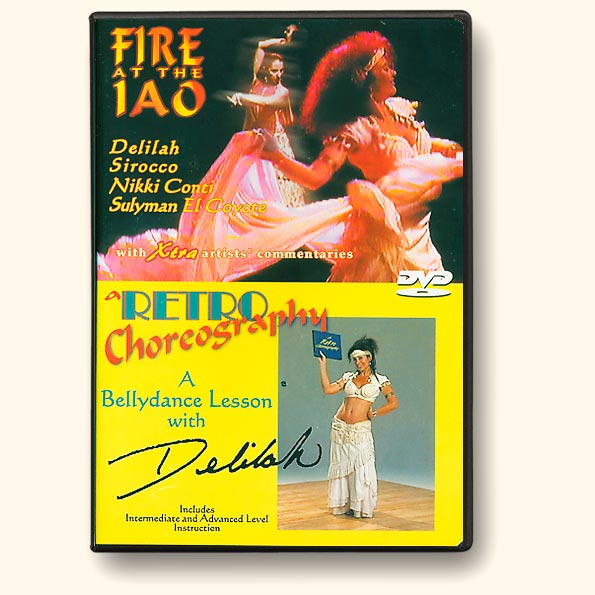 View More Images
A Retro Choreography (with Performance program "Fire at the Iao")
Notice
: wpsc_product_has_file is
deprecated
since WP eCommerce version 3.8 with no alternative available. in
/nfs/c01/h06/mnt/3552/domains/visionarydance.com/html/wp-content/plugins/wp-e-commerce/wpsc-includes/misc.functions.php
on line
739
IAMED Award Winner 2003 "Best Instructional Belly Dance Program on Video or DVD"
In this program we look back at a spontaneous choreography, deconstruct it, and squeeze the juice from its kernels to nourish our growth and understanding of bellydance. As we view this instructional companion to Fire at the Iao, we find ourselves observing the science behind the magic and art of bellydance.
One five minute section of the live Iao concert performance is carefully broken down into 7 instructive lessons with approximately 48 different bellydance moves. Even non-dancers will find this highly original instructional program fascinating and illuminating.
This program was shot with 2 cameras during the live concert at the Iao Theater and 3 cameras at American Production's studio for the instructional program. A step-by-step instruction of a spontaneous choreography from Fire at the Iao. For intermediate and advanced dancers, A Retro Choreography is a very well produced presentation we know you will enjoy.
Flamenco and bellydance, hot and soulful. Fire at the Iao captures a remarkable performance…a beautiful, entertaining and entrancing evening of dance and music. This live show from the Iao Theater, Wailuku Maui in February 2000, stars Nikki Conti & Sulyman El Coyote in Spanish Flamenco, and Delilah & Sirocco in Middle Eastern Bellydance.
Studio Program Chapters:
Begins with the 5 minute Dance Performance study material
Introduction and discussion of Right and Left brain thought processes
Notes on how to study with this video lesson
Preliminary Dance Exercise and warm up
A Retro Choreography: Lessons 1-7
Alternating sections of performance demonstration and in-studio instruction
The dance with voiced over stereo coaching instruction
Additional Choice of sound tracks offered on DVD
Theatre Show Program Chapters:
Introduction and dance collage
Nikki Conti in 2 Dances: Solaris & Bolaris
Sulyman el Coyote in Male Dance Bolaris
Delilah and Sirocco burn up the stage together in a 30 minute featured dance performance! Fire at the Iao!
WEB CLUB MEMBERSHIP
Fabulous Extras:
Artists commentary: Nikki, Sol, Armando and Delilah
Delilah's solo commentary
Bazaar, trailers and credits