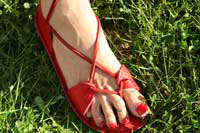 View More Images
Egyptian Eye Of Horus Sandal
Belly dance is usually a barefoot dance but when occasions arise where bare feet just aren't safe or practical, these sandals are the next best thing. Designed for use indoor or out, these sandals are light weight and form fit to your foot. They hug your feet! They are so flexible it's like having no shoes on at all, yet your feet are protected. The soles are made of a lightly textured waterproof material providing just enough traction so you will not slip, unlike many other sandals. Available in many colors to coordinate with your belly dance costumes. Many dance sandals from dance shops cannot be worn outdoors without being destroyed. These sandals are perfect for parades and outdoor festivals. They can be worn every day and are great for camping and hiking too.
Specially crafted for Visionary Dance with the magical "Eye of Horus" symbol embossed into the heels...perfect for Belly Dancing! Custom handmade in the USA.
Note: Orders usually take 1-4 weeks for delivery, depending on size and color. We keep a fair number in stock and ship every week but if you have a special request or unusual color/size, it will be longer. No half sizes. These sandals fit medium to wide feet. Narrow widths are available by special order. Sizes run true to street shoes. Order your normal size.