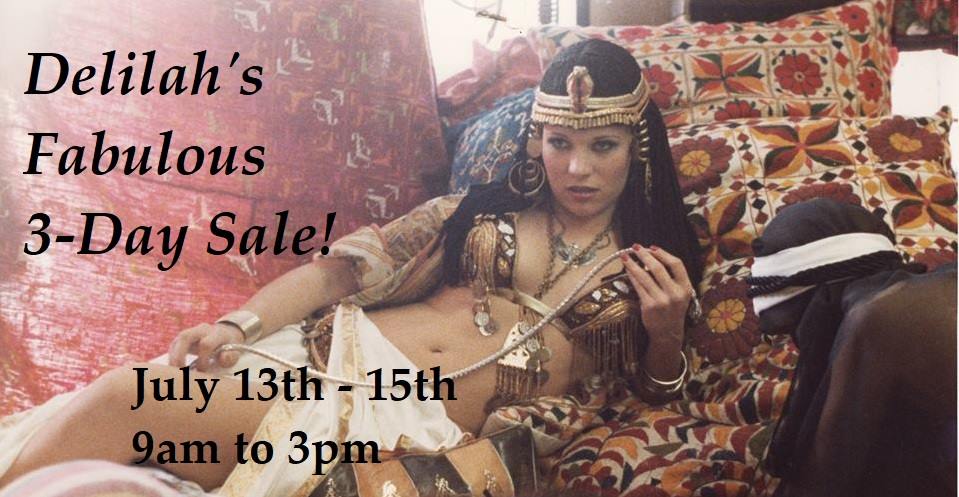 Simply Sensational! Delilah is clearing out her collection of vintage clothing and unique collectibles. This sale – July 13, 14, and 15 – will run from 9am to 3pm on Friday, Saturday, and Sunday, with Sunday focusing exclusively on corsets and gowns.
VARIOUS INTRIGUING ITEMS:
Photos and Video on the Facebook Event Page>>
• Grandmothers' typical estate items,
• Flynn Family housewares and general downsizing. books, records, Some furniture.
• Visionary Dance Production storage unit unload. Folding chairs, office supplies, mirrors, stage lights, display, Solstice Parade props, CD's, Dvd's, magazines, (Some large and heavy items you may need to pick up after the sale hours at a location near by.).
• Evilyn Sin Claire of Sinner Saint Burlesque (aka Laura Rose) downsizing of burlesque/bellydance/burning man costumes, Sinner Saint Burlesque storage liquidation, costume supplies, artifacts, vintage dresses, props, and house wares; raising money and making space for her incoming baby!
• Delilah's elaborate Belly Dance Costumes, ethnic wear, jewelry, rugs, Instruments, and more as we sort. (from a 45 year career so some are vintage). Some items will not be put out until Sunday.
• Madam D'z Designs & Vintage Acquisitions liquidation! Corsets, large collection of vintage night gowns,(Olga, Shadowline, Vassarette, Vanity Fair, Miss Elaine, Lilly of France, . . . Hats, Coats and Dresses. Some items will be reserved for Sunday.
The sale will be held inside and outside all 3 days.
See times and double check before arriving.
Friday and Saturday will encompass a ton of things as space allows. Bathroom use is not available.
Sunday is a Special Day! Inside will open with a restaged event. Additions of more fashions and costumes items such as costumes, gowns, stage props. . . with more emphasis on display and assisting people with items they may want to try on. Mirrors and dressing areas will be provided.
Special Guest Collection Curator will be Laurel Victoria Gray, who is flying in from Washington DC for this event! (Laurel will also be available for private lessons and choreographies.)